Features and Benefits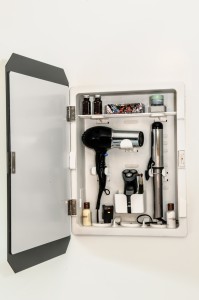 The Hair Care Hideaway™ eliminates bathroom counter top clutter by organizing and concealing hair care appliances in a sleek, innovative cabinet that occupies the same space as a standard medicine cabinet.With a patented pulley design that manages electrical cords in hidden tubes behind the wall, the cabinet stores hair dryers, curling irons, and much more out of sight, while electrical outlets on the interior allow the user to keep everything plugged in. Appliances, cords, accessories — all hidden but within easy reach!
Benefits of The Hair Care Hideaway™:
Safety improvement — Eliminates electrical appliances left on counter top.
Cord management — Provides a workable solution for managing cords in a restricted space.
Clutter management — Provides an acceptable and innovative storage solution for the two or three hair appliances used regularly by the average woman.
Versatility — Could be used for other small electrical appliances such as electric shavers, rechargeable hair trimmers, and electric toothbrushes.
Ease of installation— Do-it-yourself friendly installation.
Reversible door swing — Allows the center to easily install on any wall.
Easy substitution for medicine cabinet— Designed to fit within the existing space of a medicine cabinet, eliminating the need to cut out a new space. *
Storage flexibility— Positioning the holder clips on a sliding bar makes them easily adjustable for different appliances.
Design flexibility — Adaptable to any style or home design with the optional decorative mirrors and door fronts.
Portability — Easily relocated if not electrically installed.
Great for apartment dwellers — And others with limited bathroom space
Electrical Plug Kit Add-On
The Electrical Plug Kit is available for $19.95 and must be installed by a qualified electrician.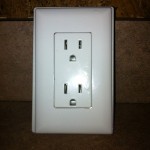 * According to the National Council on Patient Information and Education, medications should be kept in a cool, dry area since heat and humidity can be damaging. For this reason, medications should not be stored in a medicine cabinet in the bathroom.
Kimberly D. Padgett, PharmD Candidate at Florida A&M University College of Pharmacy & Pharmaceutical Sciences, states, "Proper storage of medications is one of the many things we learn on the way to becoming pharmacists and I agree that medications should not be stored in a bathroom due to the damaging effects of heat and moisture."
Reference:
"Tips on Safe Storage and Disposal of Your Prescription Medicines." National Council on Patient Information and Education. 2008. Accessed April 21, 2012. http://www.talkaboutrx.org/documents/safe_storage.pdf